UPDATED 3/14/2018: The "My Big Saab Jump" article at the end of this post was a bit premature. I have significantly enhanced the aerodynamic calculations and trajectory plots among other improvements. Scroll to the end and click the image if you care to read the updated version. My apologies for being too hasty.
—————————————
I received an email a few days ago asking if I was going to continue posting here. I understand why I was asked; it's been a long time. My answer was that I got a little burned out and I had too many non-Saab things to attend to, not to mention the weariness that comes with age. However, I'll get back to the MC850 this spring and make a concerted push to make progress.
I did accomplish a couple of Saab-related activities last summer, and I thought I would digress for just one post and discuss those. First up is a bit about a 1964 Saab that's been sitting here, and after that is a story about a traumatic, unintentional jump I made in my 1966 Saab back in 1967 or 1968.
If you have the time, at least take a look at my jump story at the end of this post. Most of you will think I'm looney or delusional, but the jump really happened like I describe. It's firmly burned into my memory and I had to get the story on print before I die.
My 64 Saab that I Decided to Sell, but then had to Keep
I've had this 64 Saab since 2002. It's just one of many that I bought with big ideas for restoring, and then doing nothing. I decided it was taking up space, and since I was unlikely to do anything with it, I should sell it and use the funds for the MC850. I figured I had to clean it up a little because it was sitting here looking dirty and worthless. The rubber looked like this: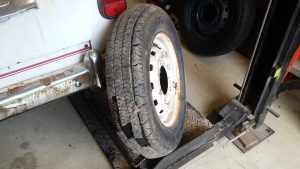 At least it had wheels. But it didn't have a motor. The guy I bought the car from had a motor sitting in a metal shed sitting on a wet plywood floor for a couple of years. It was a junkyard pull that looked like it had been sitting in the yard for 30 years. It still had the original Swedish language spark plug wires. It also had a bunch of dangling parts that had just been ripped from the junk car: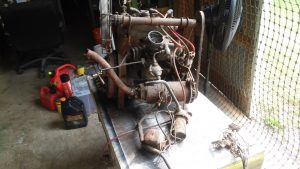 I decided to examine if it was worth putting in the 64 and, to my surprise, it wasn't seized. Peering through the exhaust ports, I could see the cylinders looked good so I decided to examine further. Well, didn't look like coolant flow could be too good. Looked like 30+ years with water created a LOT of aluminum oxide—just a guess, I'm not a chemist: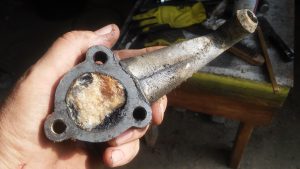 After hours of chipping away at the aluminum oxide and flushing gunk out of the block, removing dangling participles, replacing seized spark plugs, working hours to loosen frozen waternator (waterator?), I hoisted it up into the engine bay for installation: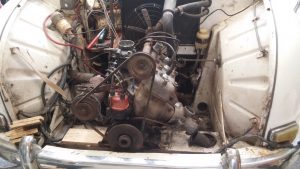 I hadn't looked at the gas tank or fuel pump so, for testing, I stuck a gas can on the roof and ran a line to the carb—I secured the gas can well so as not to burn my barn down. I made a video of the first start attempt and, to my surprise it started. In the video, it doesn't run too well because I failed to notice the mixture screw was screwed in tight, and the main jet had unscrewed itself and was ready to fall out, staying put only by a thread or two. I was surprised that it ran at all. It's a boring 4 minute video here:

I was happy that the water pump didn't leak, and the generator worked well. Needs a new voltage regulator though. After a 20 minute second test run, the battery voltage had been pushed to over 17.5 volts! Didn't know you could do that!
The reason the prior owner decided to bail on the car was because he couldn't get the clutch pedal unfrozen—the floor is not a great place for a pivot shaft. I had to remove the pedal assembly and use my screw press. It took the 10-ton press plus a lot of sledge hammer blows to the screw to get the shaft out: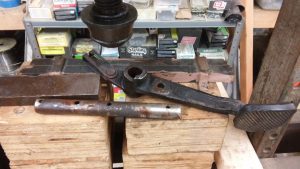 It was a lot of work but it looks good now and works butter smooth in the car: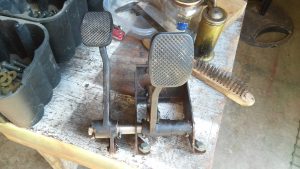 Well damn! With the car cleaned up and looking good, and the hardest work done, I just had to keep the car so I could have a Saab to drive in the near term until the MC850 is done! I'm glad the buyer I had lined up was understanding. So far, since then, I've done the brakes. They look so good I had to include a photo here: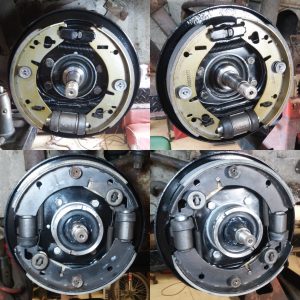 The interior is okay as is except I think I need a new front floor mat: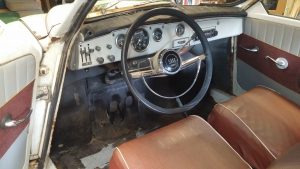 And, after getting some good used tires and mounting them on some soccer balls, the car is looking ready to go. I've got to clean the tank, check fuel pump, get electrical up to snuff, rebuild master cylinder, and reinforce floor around seat belt anchors and it will be ready to roll!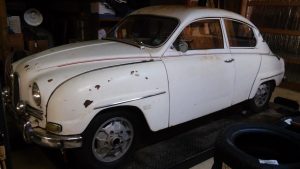 My Big Saab Jump – a Story I really Need to Tell
The jump described here happened back in 1967 or 1968; the year is the only part I have a hard time remembering. After it happened, I never talked about it to anybody. That's just the way I am; I don't talk about anything. It's not a good way to be, I know, but it's the way I've always been. But, late in my life, this is something I wanted to get on record. You can choose to believe it or not; I'm okay with that but I don't want to argue about it. Just take it or leave it. By the way, that's a 20-year-old me that I pasted into the car. I was actually 24 or 25. Here it is, click on the image to read the PDF article: