Splash Guards
This is a short post showing the last few bits of underside work before media blasting and application of coatings. Figure 1 shows a donor splash guard for the driver's side. The original was a bit too crumbled to be reworked. Having surplus 304 stainless sheet, I decided to cut off the short mudflap mount and replace it with stainless steel. Figure 2 shows it installed on the car, and Figure 3 shows the modified passenger side splash guard.
Repairing Seat Belt Mounts
Figures 4-8 show the floor seat belt mounts being repaired. The floor metal surrounding the mounting bolts had rusted so I had to remove the anchors and replace small rectangular sections as shown in the photos. I am confident that the repairs are solid and safe.
Jack Mounts
The final step was to install the original jack mounts on the new rocker frames. I had no idea where to weld them but I was lucky enough to have another original Saab 96 sitting in the barn for reference. Figure 9 shows one mount and Figure 10 shows the mount being tested for fit to the jack.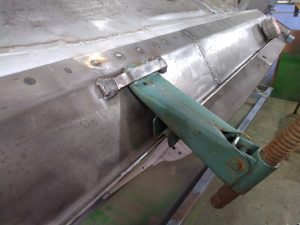 Figs 9-10